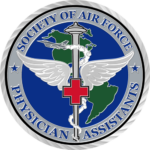 Shazreena Furlough
Diversity, Equity and Inclusion Chair
Biography
Capt Shazreena Furlough is a board-certified Family Medicine Physician Assistant, 88th Healthcare Operations Squadron, Wright-Patterson AFB, OH. She serves as a primary care manager and provides medical care to approximately 14,000 retirees, dependents and eligible beneficiaries.
As a prior medic Furlough takes pride in developing and mentoring those around her. She has been a preceptor for IPAP Phase 2 students and HPSP students at both Wright-Patterson and Nellis AFB for the last 4 years.
Capt Furlough enlisted in the Air Force as a "slick sleeve" Aerospace Medical Technician in 2007 and deployed to Afghanistan in support of Operation Enduring Freedom in 2009. She volunteered to become an Independent Duty Medical Technician in 2012 and was selected for the Interservice Physician Assistant Program in 2015. Since 2019 Furlough has been a PCM at two large medical centers and most recently deployed stateside through FEMA providing support in the Emergency Department.
Education
2007-2008 Aerospace Medical Services Technician Course
2012 Associate in Applied Sciences, Allied Health Sciences, CCAF
2012 Airman Leadership School, Kadena AFB, Okinawa
2012 Independent Duty Medical Technician School, San Antonio, TX
2013 Hyperbaric Chamber Dive Qualification, Kadena AFB, Okinawa
2013 USMC Modular Amphibious Egress Training Course, Camp Hansen, Okinawa
2013 Center for the Sustainment of Trauma and Readiness Skills Course, Baltimore, MD
2015 IDMT-Flight and Operational Medicine Workshop, Wright-Patterson AFB, OH
2017 Bachelor of Science, University of Nebraska Medical Center
2019 Master of Physician Assistant Studies, University of Nebraska Medical Center
2021 Officer Training School, Maxwell AFB, AL
2023 Diversity, Equity, and Inclusion in the Workplace Certification, University of South Florida, Muma College of Business
Awards
Afghanistan Campaign Medal with 1 service star
Nuclear Deterrence Operations Service Medal
Army Achievement Medal
Armed Forces Service Medal
Humanitarian Service Medal
Air and Space Commendation Medal with 2 oak leaf clusters
Assignments
2007-2009: Family Health Clinic and Ambulance Services Medical Technician – Whiteman AFB, MO
2009: Intensive Care Ward Medical technician, Operation Enduring Freedom – Bagram AB, Afghanistan
2010-2012: Family Health Clinic and Ambulance Services Medical Technician – Kadena AFB, Okinawa
2012-2014: Ambulance Services and Flight Medicine Clinic IDMT – Kadena AFB, Okinawa
2014-2016: Flight Medicine Clinic, FOMC NCOIC, IDMT Program Coordinator at Dyess AFB, TX
2016-2017: Interservice Physician Assistant Program, Phase 1, Ft Sam Houston, TX
2017-2019: Interservice Physician Assistant Program, Phase 2, Eglin AFB, FL
2019-2021: PA-C Family Health Clinic, Warrior Operational Medicine Clinic and IPPD Team Chief – Nellis, AFB, NV
2021-Present: Family Health Clinic – Wright Patterson AFB, OH
2022: FEMA deployment to OKC Covid response, Emergency Department at Baptist Hospital, OKC