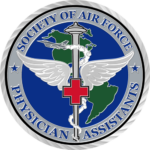 Emily N. De León
President
Biography
Major Emily De León, DSc, MPAS, PA-C, is the General Surgery Flight Commander and a Fellowship
trained Surgery PA currently stationed at Nellis Air Force Base in Las Vegas, Nevada. She graduated from
the U.S. Air Force Academy with a Bachelor of Science Degree in Behavioral Sciences (psychology).
During her Air Force career, she has been stationed at 8 bases from coast to coast and has deployed
twice. One of her most memorable assignments was when she was stationed at the Pentagon working
with Wounded Warriors, which ultimately inspired her to pursue medicine and become a PA. She
attended the military's PA school (IPAP) and graduated with second Bachelor and Master's Degree in
Physician Assistant Studies. She completed her Doctorate of Science Degree in Physician Assistant
Studies at Baylor University as well as her Surgical PA Fellowship at San Antonio Military Medical Center
in San Antonio, Texas. Prior to becoming a Surgical PA, she was a Primary Care Manager in family
medicine for 3 years.
While in PA school, she met her husband Andrew and they have three beautiful children, Mason, Jaxson,
& Charlotte and one rescue German Shephard named Ranger. In her spare time, she enjoys traveling,
cooking, and spending time with her family. She enjoys teaching and is a preceptor for PA students in
the IPAP program as well as family medicine residents and medical students during their surgery clinical
rotations at Nellis AFB.
Education
Bachelors of Science, US Air Force Academy, CO, 2008
Bachelors of Science, IPAP (Ft Sam Houston), 2016
Masters of Physician Assistant Studies, IPAP (Nellis AFB), 2017
Doctorate of Science, Baylor University, 2022
Awards
Meritorious Service Medal
Joint Service Commendation Medal
Air and Space Commendation Medal with one Oak Leaf Cluster
Air and Space Achievement Medal
Army Achievement Medal
9th MDG FGO of the Quarter: Jan-Mar 2019
9th MDOS FGO of the Quarter: Oct-Dec 2018, Jan-Mar 2019, & Apr-Jun 2019
AFMS Trusted Care Hero Team Award, fall 2017 (9th MDG)
HAF/A1 and HAF/A1S CGO of the Quarter: Apr-Jun 2014
Junior Officer of the Quarter SOCFWD-EA (deployed): Jan-Mar 2014
4th FSS CGO of the Quarter: Jan-Mar 2011
Assignments
Seymour Johnson AFB, NC, 2008-2011: multiple Personnel (MPS) & services (FSS) positions culminating as Flight Commander and Wing Chief of Protocol (former Force Support Officer) with a deployment to the CAOC, Qatar as Deputy Chief of Protocol for AFCENT
The Pentagon, Washington D.C., 2011-2014: Mortuary & Casualty policy, Protocol policy, and Executive Officer for HQ/A1S with a deployment to Djibouti, Africa as the J1 for SOCFWD-EA
Ft Sam Houston, TX, 2014-2016: Phase 1 Student; IPASS Secretary, IPASS Vice President
Nellis AFB, NV, 2016-2017: Phase 2 Student
Beale AFB, CA, 2017-2020: Family Medicine PA-C, Element Leader, 42G Functional, and PSCM Team Chief
Ft Sam Houston, TX, 2020-2022: General Surgery Fellow, honorary IPAP faculty
Nellis AFB, NV, 2022-present: Surgical PA, Element Leader, Alt 42G Functional, WIT, and IPAP Phase 2 surgery preceptor
Deployments
2009 – CAOC, Al Udeid AB, Qatar
2013 – Special Operations Command Forward – East Africa, Camp Lemonnier, Djibouti
Memberships & Associations
American Academy of Physician Assistants
American Association of Surgical Physician Assistants