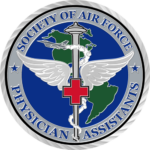 Frances "Tigger" Burress, MPAS, PA-C
Senior DAL: Air Force National Guard and Reserve
Biography
Major Burress came to the Air Force and SAFPA via the Georgia Air National Guard after a 26 year break in service where she served in the United States Army as a Unit Supply Specialist for over 3 years. During her time in the Army she met her husband of 34 years and gave birth to their son in Seoul, Korea. After exiting the Army Maj. Burress attended PA school at Methodist University and found her family PCSing to Ft. Benning, Georgia one week after graduation. For over 20 years she has served as a Civil Service Physician Assistant in various Troop medical Clinics, the Readiness Processing Center, Martin Army Community Hospital Emergency Room and Medical Evaluation Boards located at Ft Moore, Georgia and Duke Field, Florida.
While providing care to Soldiers and Marines Major Burress found a desire to return to military service. She joined the 116th MDG/DET 1 out of Georgia in 2017, became an Aeromedical PA in 2019 and hasn't looked back. Once you meet her you will understand why her call sign is "Tigger".
This will be Major Burress' fourth year on the SAFPA board and she has had a blast meeting fellow Air Force PA's and working to grow the NG/RES presence in SAFPA. Reach out to her if you are interested in becoming a future BOD member or a Guard member.
Education
2013- Masters of Physician Assistant Studies University of Nebraska
2003- Bachelors of Health Sciences Physician Assistant Methodist University
1994- Associate of Arts Liberal Arts Chattahoochee Valley Comm College
Assignments
2017 to present – 116 MDG/DET1
2018-2020 Temp AGR 116th MDG providing full time provider support to the Wing
2020 – Deputy Commander Joint Task Force Rome, COVID 19 Pandemic
2021- OIC Travel Vaccination team, vaccinating service members from all branches
and Civilians supporting their missions
2021- Manpower Assist 673 OMRS JBER Alaska
2023- Manpower Assist Jacksonville MEPS