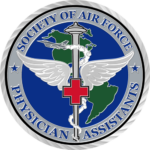 Cindy Lauvetz
Junior DAL of Membership
Biography
Captain Cindy Y. Lauvetz is a Physician Assistant in the 87 th Medical Group's Warrior Operational
Medical Clinic, delivering trusted medical care to the clinic's joint service active duty and dependent
population. She earned her commission as a Second Lieutenant in 2017, after graduating from the Air
Force Academy with a biochemistry major and Chinese minor. Her first duty assignment after earning her
certificate as a Physician Assistant through the Interservice Physician Assistant Program was at Tinker
Air Force Base. Her and her husband, an Air Force pilot, live with their two rescue cats, despite being
adamant dog people.
Education
2017 Bachelor of Science in Chemistry, United States Air Force Academy, Colorado
2018 Bachelor of Science, Interservice Physician Assistant Program, Fort Sam Houston, Texas
2020 Masters of Physician Assistant Studies, Langley Air Force Base, Virginia
Awards
Air and Space Commendation Medal – 1 Oak Leaf Cluster
Distinguished Graduate, United States Air Force Academy, 2017
Assignments
June 2013 – May 2017, Cadet, United States Air Force Academy, Colorado
August 2017 – December 2018, Physician Assistant Student, Interservice Physician Assistant
Program, Fort Sam Houston, Texas
December 2018 – January 2020, Physician Assistant Student, Interservice Physician Assistant
Program, Langley Air Force Base, Virginia
January 2020 – March 2023, Family Practice Physician Assistant, 72 nd Medical Group, Tinker Air
Force Base, Oklahoma
March 2023 – Present, Family Practice Physician Assistant, 87 th Medical Group, Joint Base McGuire-
Dix-Lakehurst, New Jersey
Deployments
AB201, Niger July 2022 – January 2023
Memberships & Associations
American Academy of Physician Assistants
Society of Air Force Physician Assistants
Pi Alpha Honor Society for Physician Assistants
National Collegiate Chinese Honor Society
Effective Dates of Promotion
Second Lieutenant May 24, 2017
First Lieutenant May 24, 2019
Captain May 24, 2021